Events
11/05/2023
Venice Design Biennial
Events
13/04/2023
Milan Design Week 2023
Events
30/05/2022
Purho at Milano Design Week 2022
Events
10/08/2021
Purho doubles up and chooses two locations, two events and two cities – Milan and Venice – to present Essenziali, the new collection of Murano glass vases designed by Federico Peri, in September 2021.
Events
03/12/2020
Haute / Petite Incisioni Collection by Federico Peri
Events
01/03/2020
Incisioni
Events
08/09/2019
Purho: Tribute to Alessandro Mendini
Events
02/09/2019
The Venice Glass Week 2019
Events
04/04/2019
PURHO | MENDINI – RASHID @ RINASCENTE
Events
22/03/2019
Incalmo
Events
06/09/2018
Light Blowing
Events
08/04/2018
Like drops from heaven by Karim Rashid
Venice Design Biennial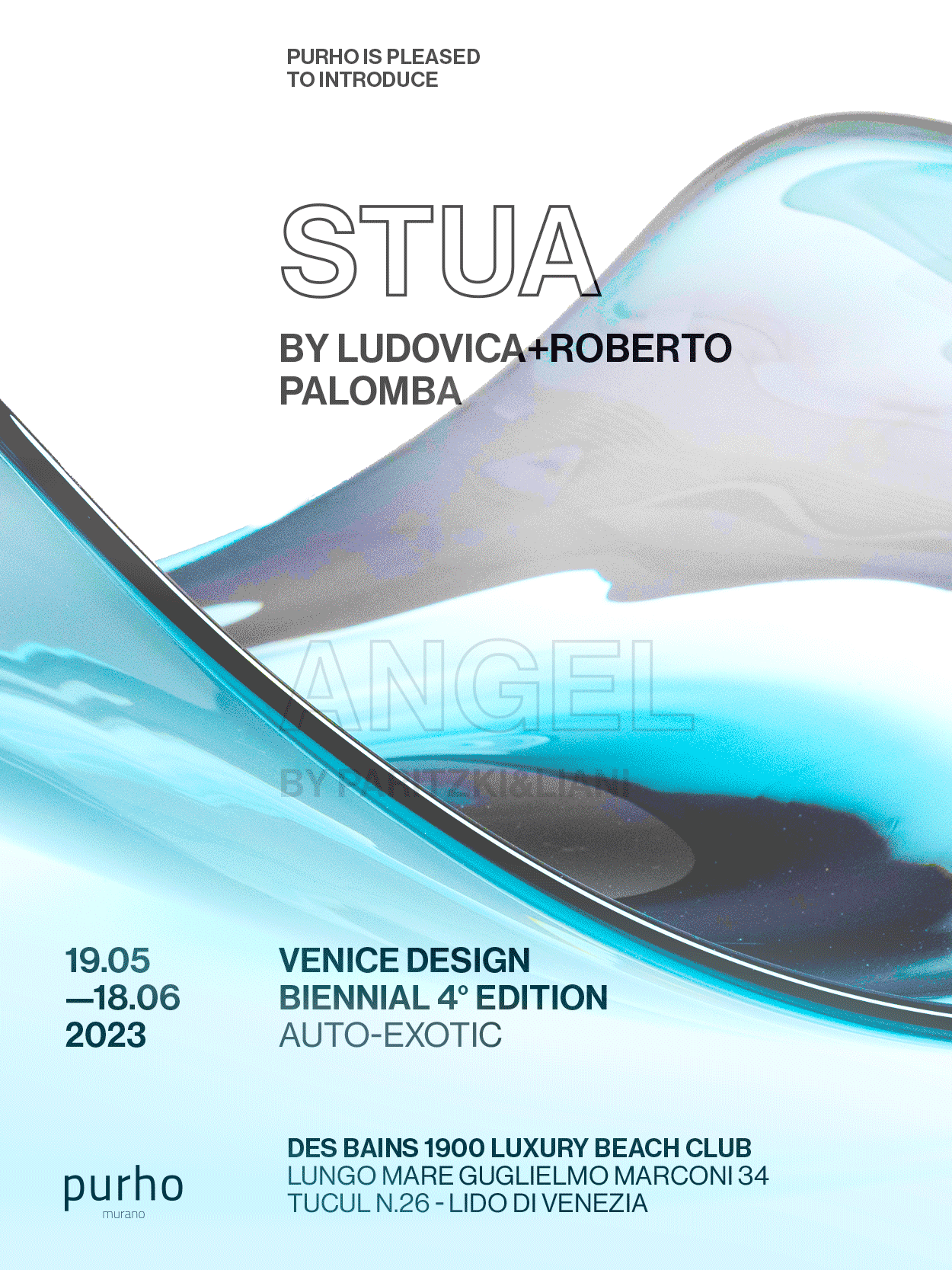 PURHO presents on the occasion of
Venice Design Biennial | 4th edition Auto-Exotic
19.5 — 18.6.2023
Stua by Ludovica+Roberto Palomba
Des Bains 1900 Luxury Beach Club
Lungo Mare Guglielmo Marconi 34
30126 Lido di Venezia (I), Tucul n.26
Angel by Paritzki&Liani
SPARC* – Spazio Arte Contemporanea
Campo S. Stefano
San Marco 2828a
30124, Venezia (I)
Press tour and opening
18.05.2023
After the Milano Design Week 2023, Purho has chosen Venice and more precisely the 4th edition of the Venice Design Biennial to launch Stua, the new tray by Ludovica+Roberto Palomba as part of Laguna Collection, and to re-present the new low-tables Angel designed by Paritzki&Liani (Tel Aviv, Israel).
Two projects, two concepts, two interpretations of Murano glass signed by two important international architecture and design studios gathered together in Venice for the Auto-Exotic collective exhibition opened in parallel with the first month of the Architecture Biennale.