Events
30/05/2022
Purho at Milano Design Week 2022
Events
10/08/2021
Purho doubles up and chooses two locations, two events and two cities – Milan and Venice – to present Essenziali, the new collection of Murano glass vases designed by Federico Peri, in September 2021.
Events
03/12/2020
Haute / Petite Incisioni Collection by Federico Peri
Events
01/03/2020
Incisioni
Events
08/09/2019
Purho: Tribute to Alessandro Mendini
Events
02/09/2019
The Venice Glass Week 2019
Events
04/04/2019
PURHO | MENDINI – RASHID @ RINASCENTE
Events
22/03/2019
Incalmo
Events
06/09/2018
Light Blowing
Events
08/04/2018
Like drops from heaven by Karim Rashid
Purho at Milano Design Week 2022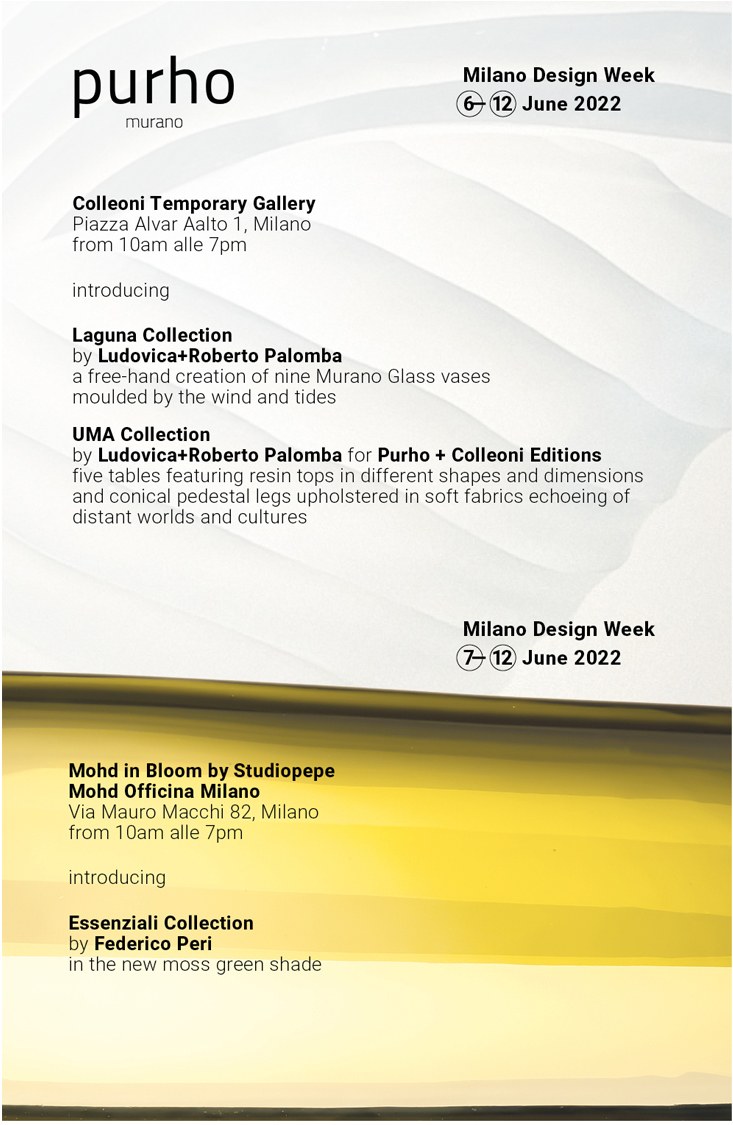 A new disruptive collaboration for two new collections designed by Ludovica+Roberto Palomba.
Laguna Collection, a free-hand creation of nine Murano Glass vases moulded by the wind and tides and UMA, a capsule collection of five tables featuring resin tops in different shapes and dimensions and conical pedestal legs upholstered in soft fabrics. Exclusie to Purho + Colleoni Edizioni.
Press Preview
6 June 2022, 10am — 7pm
Cocktail
9 June 2022, ore 6pm — 8pm
Colleoni Temporary Gallery
Piazza Alvar Aalto, 1 Milan (I)
6 — 12 June 2022
from 10am to 7pm
*
Essenziali Collection by Federico Peri in the new moss green shade at Mohd in Bloom, the new installation of the Officina Milano space curated by Studiopepe.
Mohd in Bloom celebrates the best of international design, in an installation that recreates the atmosphere of a summer garden which, thanks to a scenographic game of mirrors, multiples its effect to infinity.
Mohd in Bloom by Studiopepe
7 — 12 June 2022
Mohd Officina Milano
Via Mauro Macchi 82, Milan (I)
from 10am to 7pm